So far, I've had a couple of clients for my custom bra making service. I have had quite a few questions though, so I thought it would be good to round them all up in one place. I've noticed that many women feel like bras are similar to shoes. They're always uncomfortable and you just have to deal with it. I call shenanigans on that! Although, I do find it mostly true with shoes. One day I'll learn to make my own.
What are my pattern choices?
Currently, I have 6 bra patterns to choose from. I can order any available pattern for you though, and don't charge for the pattern but will require a down payment to make sure I have the funds on hand. The six I have right now are:
Pin-up Girls: Linda, Shelly, and Amanda
Make Bra: 3221
Merckwaerdigh: CUPL16 and EFG40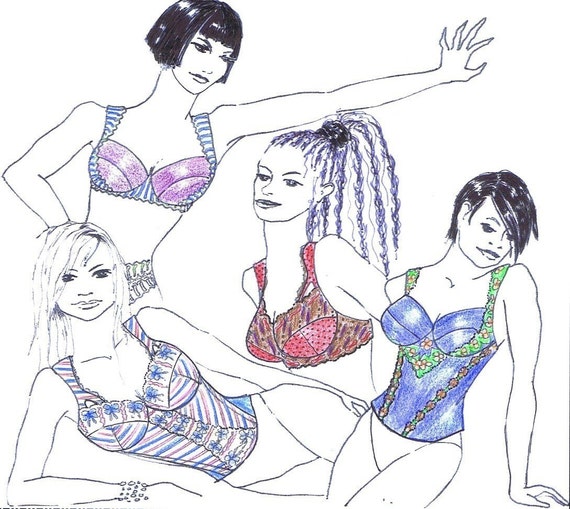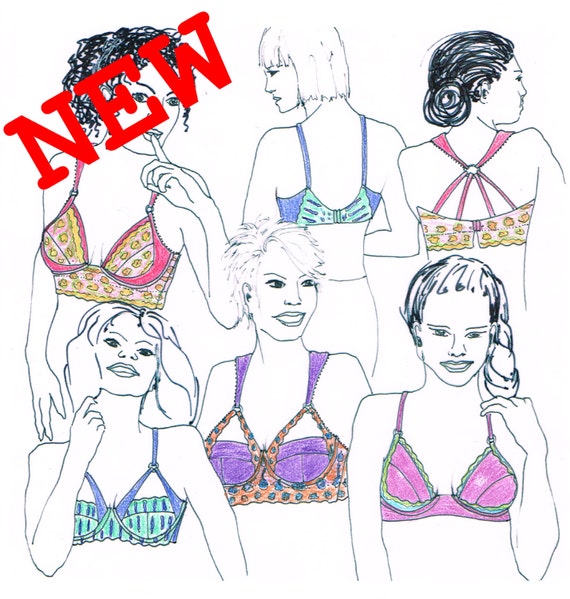 These are all patterns drafted for larger cup sizes. I have not yet bought any for smaller cups as they won't fit me.
I also have Cloth Habit Watson, which is unstructured.
How long will it take?
At least 4 weeks. I don't keep too many components in my stock as there are so many sizes and variations available. This means I order the materials as needed and then have to wait for shipping. This also means I can help you make a truly custom bra as you have control over every aspect of it.
My size is this. Why are you measuring me?
That size is a good starting off point for me, but I need hard numbers to fit you properly. I can't tell if you're wearing the best size for you, or what size chart your favourite brand of store-bought bras uses.
That's not my size.
Let's wait for the test fit before we say that, shall we? Like boobs, bra sizes aren't standard. Some companies updated their sizing when spandex was incorporated into bras, and some are stuck in pre-spandex days. I don't know how you measured to get your size, but the one I'm choosing is based on the pattern's recommendation. Let's try it.
How can you be sure it will fit?
Well, chances are that the first fitting won't be a perfect fit. I hope that is really, really close though. I make a test bra out of my cheap, ugly fabrics first so you can try it on. I expect to have to either add a little here or take in a little there, or go through 3 or 4 different size wires until we find your perfect fit. It may take longer, but it will be the best fitting bra you've ever worn.
I really hate tight bras, can I have it looser?
Err... maybe? I'll make it to your size first, and then we can see how you like it. If you still want the band looser I can add in a little bit of extra without changing anything else. Keep in mind that a too loose band will ride up your back and be uncomfortable. A properly fitted band will stay in place level around your whole body. Personally, I find the level band to be most comfortable.
I don't care for underwires, can we make it without?
We sure can! Unless you want a partial band bra, then you're out of luck. Partial band bras rely on underwires to keep everything in shape. But the others can be made without. You might also want to try on a few different sizes of underwires before you make your decision. Ready to wear (RTW) bras have the best underwire for the size of the bra, but I can help you find the best underwire for the size of you. You may find a wider or narrower wire is super comfy even though you've never liked wires before. Some breasts are winder at the base, and some narrower. In a size that fits me RTW, the wires are usually much too wide and poke me in the middle of my armpits. I experimented by removing those wires on an old bra and inserting my favourite ones for sewing. It was so much better.
I like foam cups, can you do those?
Yes! There are lots of patterns for foam cup bras, I can help you choose the one you like best.
Seamless?
Yes, but only in 1 style (See Amanda bra)
Maternity?
Yes! This is more about finding a comfortable bra that can change with you for the next few months. I can adapt any pattern to do that with a few tucks and some extra thought.
Nursing?
Yes! After examining many nursing bras in the stores, I can adapt almost any pattern to be a nursing bra. Stiff foam cups would be tricky, but if that's what you want, I am sure I can figure it out.
Is it really worth it to have a custom bra made?
Yes! It is totally worth it! Every boob is a different shape than any other. Even the two on each woman can be very different. RTW bras are made to blend quite a few sizes into an "average" size based on measurements. They can't possibly sell bras that fit perfectly in stores because they don't know your body. Custom sewing means I'll make it to fit only you, not every other women of roughly the same size and shape as you.
No one notices a bra that fits well. It becomes nearly invisible under your clothes. But a bra that is poorly-fitted will make you look odd. A bra too small in the cups will cause spilling over the top, one too large in the cups causes wrinkles and gaps, a too loose band makes it creep up your back and has you feeling like the straps can never be the right length, whereas a too small band digs into your ribs and causes you to notice it's there all.day.long. Why deal with all that discomfort when you don't have to?